Super Mario Maker will include 99 amiibo outfits for the Super Mario Bros style. The big question is what ones will or won't be included. I think think the amiibo of the Pokemon and SSB Mario and Super Mario will not be included  since the Pokemon Company did not let the outfits be used for Woolly World and those Mario's really don't change his look much. Besides that I think the rest will work. So lets see how many it would equal. Edit the Pokemon amiibo and Mario versions work while the Mii Fighters don't.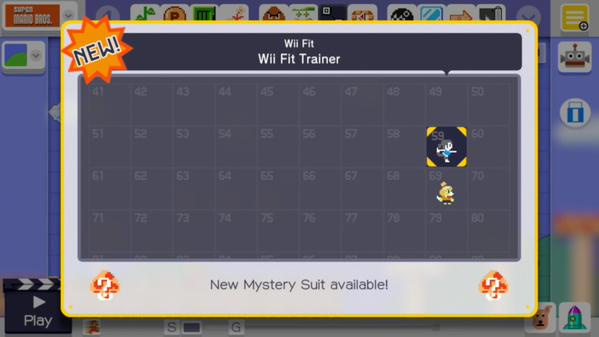 Possible list 
Super Mario/ SSB/ CC/ MCSuper Mario Luigi/ SSBSuper Mario Peach/ SSBSuper Mario Bowser/ SSB/ SKY/ SKYDVSuper Mario Yoshi/ SSB/ Green Yarn Yoshi/ Blue Yarn Yoshi 
/ Pink Yarn Yoshi
ToadSliver MarioGold MarioAnimal Crossing Isabelle/ card Summer and Winter
Animal Croossing Tom Nook/ card
Animal Crossing KK. Slider/ card
Animal Crossing Mabel/ card
Animal Crossing Cyrus/ card
Animal Crossing Reese/ cardAnimal Crossing Digby/ card
Animal Crossing Lottie/ card
Chibi-Robo
Inkling GirlInkling BoyInkling SquidRosalina & LumaBowser Jr.Dr Mario.WarioDonkey Kong SSB, SKY/ SKYDVDiddy Kong
Mr. Game & Watch
Little MacLinkToon LinkZeldaSheikGanondorfSamus
Zero Suit Samus
PitDark PitPalutenaMarthIkeLucinaRobin
Roy
Duck HuntKirbyMeta KnightKing DededeFox
Falco
PikachuJigglypuffMewtwoCharizardLucarioGreninja 
R.O.B.
Ness
Lucas
Captain FalconVillager OlimarWii Fit TrainerShulkPac-ManSonicMega Man
Ryu
Others 
GoombaQuestion BlockTrampolinePikminCelesteAshleyConstruction MarioTingleWaluigiResettiSlippyDonkey Kong Jr.Mario KartDr LobeSticksPeppy 
74 known costumes so fair.
Last edited by Gameguy1996 on Wed Sep 02, 2015 1:47 am; edited 14 times in total