With the announcement of Smash Bros coming to the Switch it has open endless speculation. So until release I will be listing characters, assist trophies, promoted fighters, items, stages and modes I would like to see in the game.
Lets start with my roster.
70 characters? there's no way the game will have that many before DLC. While I'm in the boat that this game will be using the For engine so I see little to no cuts and if there are they are sure to return as DLC after the games comes out. As for the pattern of each game having more newcomers then the last with Melee having 13, Brawl having 18 and For having 21. So that means Smash Switch is sure to have 24 right? While as the roster gets larger it will be harder to balance and meet the release deadline and it's already a ton of characters if the base game roster hits 70 characters. Also I believe there will be at least a year of DLC so they could increase the roster size that way. Now let's go over my newcomer picks.
Captain Toad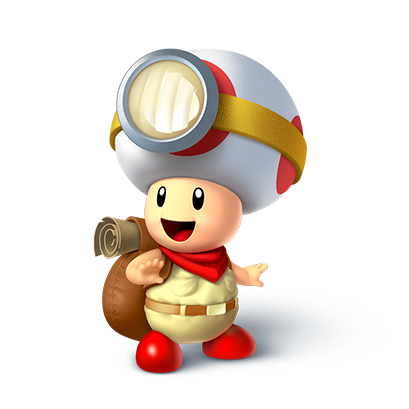 We have already have 7 Mario characters in Smash we don't need any more. While I would say that is a good reason Nintendo has loved Captain Toad since, his first appearance in Super Mario Galaxy. He has appeared in Super Mario Galaxy 2, 3D World, Odyssey and his even got his own game that's getting ported to Switch and 3DS soon. Also he can't jump is not a good reason for saying he can't be in when characters like Link and Olimar are playable. The good Captain could use a number of moves such as the pickaxe, head lamp to stun other characters and even his backpack could be used as his recovery after he tosses out an item or 2.
Last edited by Gameguy1996 on Sun Apr 29, 2018 10:37 pm; edited 3 times in total