Today's Subject
: Let's compare Super Mario Bros. 3 and Super Mario World! (Part 1/2)
These two games are deemed legendary to the Super Mario fans, due to the fact that these games have really nice gameplay and it introduced many things to the Mario series.
Today, I will compare these two games, and declare which game I like better. (It's my personal opinions!)
Category 1: The Power-ups
Super Mario Bros. 3 introduced the Super Leaf which made us able to fly. Also, it introduced many kinds of suits, like Frog Suit, Tanuki Suit, and Hammer Suit which made Mario able to perform strong attacks. I liked the variety of the power-ups, and all of them felt useful in their own way.
Super Mario World doesn't have the suits. But it introduced the cape feather, which allowed Mario to fly forever as he keeps hovering. Also, it introduced the Yoshis (technically a power-up) which you can ride on! Yoshis can also burst fire, pound, or fly if they eat a Koopa shell. Using the cape feather and Yoshi was so fun and creative in my opinion.
It is a close call. However, I didn't really like how SMW made the cape and Yoshi so useful that it made the fire flower so useless. (Seriously, you won't use it much.) I thought SMB3 had more equality on power-ups, so SMB3 wins this round.
SMB3 1: 0 SMW
Category 2: World Exploration
One of the biggest aspect of these two games is the overworld. It made the players think that they are actually exploring the world, instead of just playing the game.
Super Mario Bros. 3 had an individual world map for each world. I liked how there were many things to do in the overworld, like gaining 1-ups by playing games, getting an item from Toad, and fighting the Hammer Brothers. It also had alternative paths, so the players could play only the levels they wanted to.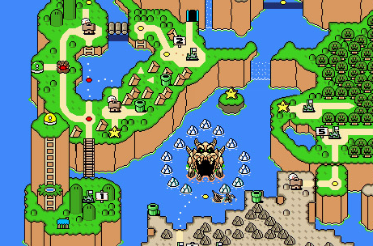 Super Mario World didn't have those fun overworld events. It also didn't have the alternative paths. However, I really liked how the worlds are connected well into each other. The overworld looked amazing for that time! Also, I really liked finding the secret paths and the two extra worlds were pretty nice too. (Star World and Special World)
Though SMB3 has more things to do in the overworld, I really liked finding the secret paths in SMW. Also, having a connected overworld was wonderful. (I was delighted when NSMBU did it again..) So, SMW wins this time.
SMB3 1: 1 SMW
Category 3: Level Themes
Super Mario Bros. 3 had a nice variety of level themes. One world had water, one world had deserts, one world had the sky, one world had the ice stages, one world had many pipes, and one world even had giant enemies. I also really liked the airships of this game. Overall, there's a lot of variety of level themes in this game.
However, Super Mario World dind't have the nice variety of level themes. Every themes look pretty simmilar. I know, there are many number of themes here like the forest, the grassland, the hills, the caves- but I really think these themes look too simmilar. I also liked seeing the new themes for every world in SMB3, but these SMW worlds are just too simmilar in my opinon.
This is no contest, Super Mario Bros. 3 wins.
SMB3 2: 1 SMW
That's the end of part 1!
---
This versus will be continued next week Friday
, so stay tuned! It didn't end yet.
On the next episode, we will be doing a count down of the best and the worst Megaman weapons.
Last edited by Ness and Lucas on Tue Oct 14, 2014 7:24 am; edited 5 times in total